Help your child with our Cubs program for children age 3, Tiny Tigers for ages 4-6 yrs old and Kids Martial Arts Program for ages 7-12!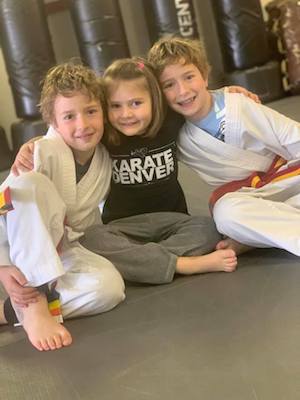 Legacy Martial Arts is a school based on teaching young kids the value of martial arts. We offer a unique take on Martial Arts with our approach and use it as a way to build confidence, character, and fitness in our fledgling students. The Tiny Tigers program is here to help guide 3 to 6 year olds, while our Kid's classes start for ages 7 and up! Our goal is to educate children in self-worth and the value of physical activity. Simply fill out the form on your screen to learn more about our comprehensive Kids Martial Arts program!
Discover Self-Improvement Through Kids Martial Arts
While other schools may teach karate as a just a contact sport, our instructors at Legacy Martial Arts in Highlands Ranch focus on:
The positive mental and physical effects of a diverse Martial Arts training regimen
The importance of discipline and fitness
The use of Martial Arts moves to train coordination and strength
Teaching life skills that will last forever
Help your kids build confidence and increase their wellbeing with Highlands Ranch's best Kids Martial Arts program!
Our Kids Martial Arts Program Offers a Safe and Supportive Environment
Teaching children, no matter what the situation, requires care and consideration. Martial arts education is no different, and at Legacy Martial Arts, we work tirelessly to give kids the support they need to gain the many benefits of martial arts, including:
Self-Esteem
Physical Fitness
Mental Focus
And many, many more! Kids Karate offers a vast opportunity for self-improvement, and we believe we can give your children the best martial arts training experience available!
So Let's Get Started With Your First Kids Martial Arts Class!
Our experienced instructors at Highlands Ranch are eager to help your children be the best they can be through the many benefits of Kids Martial Arts training! Sign up today to learn more about how much Kids Karate can help your child grow!