Learn Martial Arts and Strengthen Family Bonds with Our Family Martial Arts Lessons!
At Legacy Martial Arts, we believe in the importance of family. That's why our Highlands Ranch location offers the exciting opportunity for parents and children to learn martial arts together! By involving parents and kids together in martial arts training, our Family program helps to inspire growth and maturity in children. Our lessons ensure not only a positive experience for students of all ages, but also a valuable time for parents and children to work together and achieve a goal that benefits all of them. Fill out the short form on your screen for more information on how to start your own exhilarating martial arts training curriculum!
Benefits For Young Students and Families
Martial Arts have helped people around the world find their center and improve themselves. Even young students find themselves reaping the rewards of martial arts training, and the people of Highlands Ranch are no exception! Our Family Martial Arts lessons are based on some of the core principles of martial arts, but have adapted to the modern family structure. Our primary goals include:
Teaching Discipline
Fostering Self-Esteem
Building Family Bonds
Reducing Stress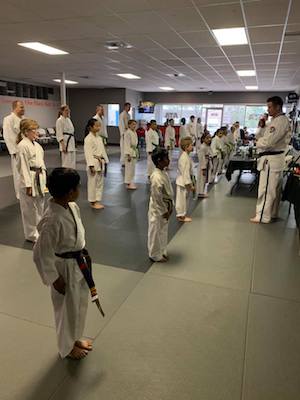 And our lessons don't just end in our studio. Through the experience of training in martial arts, our Family Martial Arts lessons are certain to bring the joy of a sharing common goal into any household!
Enjoy Learning and Growing Together Through Family Martial Arts Classes!
Martial arts offer many benefits to both kids and adults, and our family classes are tailored to bring out the best experience for everyone! Families all around Highlands Ranch have been learning fun and exciting martial arts moves, all the while building memories and improving their fitness, confidence, and physical ability! Kids and parents alike are becoming closer through the shared experience of Family Martial Arts, and at Legacy Martial Arts, that is exactly our goal!
Build Strength
Build Trust
And Most Importantly, Have Fun!
A Family-Friendly Martial Arts Program That Works For You
As Legacy Martial Arts is a family-oriented business, our Family Martial Arts lessons are flexible to allow for even busy families to come together and enjoy the rush of martial arts training! Our Highlands Ranch studio is conveniently located, and our staff is here to answer any questions you may have about giving yourself and your family the martial arts experience of a lifetime! Simply fill out the form on your screen to take your first step towards joining our one-of-a-kind Family Martial Arts program!